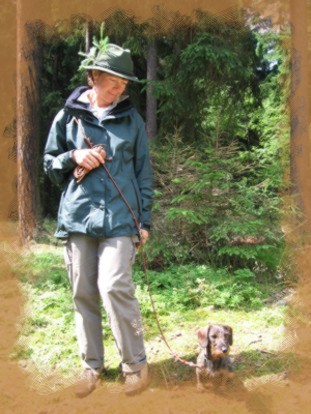 Our smal breeding kennel is situated in the centre of Karlovy Vary – on Devil´s Island, by the junction of two rivers – Tepla and Ohre. We´ve got spacious flat in the third floor. By the way, we don´t have a lift. Absence of the lift limited the number of our breeder dogs.

My bitch of standard wirehaired dachshund died in summer 2003.

It was a female with the softer coat, teeth defect, beautiful dark eyes, sensitive temperament and fine cultivation. She was over 12years old when she lost her life because of a tumour.Peggy was very brave. The pain that was caused by Peggy´s leaving could be calm down only by new puppy. So I was starting to find wirehaired dachshund, but in mini version to have two ones. All is connected with the lift. On the way to our flat you have to overcome 86 stairs. Well, I can carry two dachshounds!

At choosing of a new puppy I was catch by web page of breeding cattery Valentinka. Katka Benediktova is owner of this cattery. After some contacts I got from Katka little beautiful Chnapinka. I wanted to have two puppies from this litter, but Chnapinka was really excellent hard core. So I thanked to Katka that she sissuade me from two puppies.

Chnapinka grew out into the beautiful dog lady. She pass spring "svod" and she started to visiting shows. Firt the home shows, than foreign shows. She likes shows, and she shares our happiness from her success.

Because dachshound is working breed, we had to think about the exams. First, Chnapinka passed the "gift´s" exams. One day Katka called me that there will be "gift´s" exams in Karlovy Vary. We thrash out a question what to do. Time was growing short. Preparation was quiet short and very uncontrolled. I had combinate feeling at start, but it was changing into the positive feelings during single disciplines. Finally I was excited. Chnapinka made these exams in the first award and she pass the conditions to breed.

Thanks to Mrs. Dana Hajkova (she organize weekly training camps for dachshounds and their humans) our Chnapinka passed the next exams (ZN, KBZ). In these things our trainers were very helpful, esp. Mgr.Lenka Pavkova and Ing.Zdenka Vesela, that preparated all to training of hard disciplines. Is only their credit, that more and more dachshounds have work self-realization.

On this camp we met with a lot of dachshounds and with people that inscribe to them. We will go again next time.

During these activities Chnapinka was in the age when is necessary to think about motherhood. So, it started bridegroom choosing. It should be nice dog with very nice temperament and good working results. It was not hard to decided for Dalamanek Valentinka. Dalamanek entered his father´s target cheerly and tenderness willingness. Chnapinka became a mother after two months, in Friday 13.1.2006. She gave a birth to 5 beautiful puppies. And I became a breeder.